However, the pandemic, like many major societal events, will leave a legacy. In the case of the COVID-19 pandemic, that legacy will be significantly greater acceptance of remote working. Some employees may be able to complete remote work, but it is likely that many more will end up with a split schedule, working from home several days a week and in the office the rest of the time.
While the concept is simple, successful implementation of the hybrid workplace and shared desking necessitates attention to some operational details. Here are some things to think about when implementing aspects of individual and collaborative workspaces: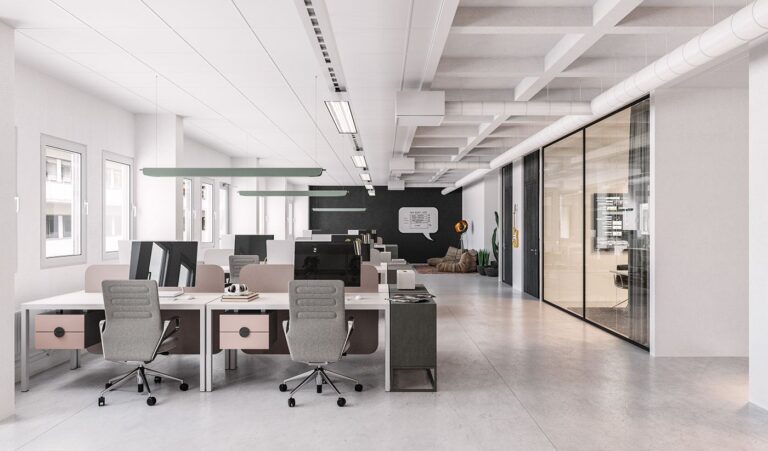 1) Keep your Desks and Lockers Clean
Employees must not leave personal items in workspaces in order to successfully manage a shared desking workspace. Some companies provide small lockers or rolling storage bins for personal items at the end of the day. A clean-desk policy that requires the removal of all personal items from workspaces at the end of the workday is also required.
2) Workstations vs. Open-Plan Desking
In the last decade, open-plan desking or benching has become a popular replacement for workstation cubicles. Many designers believe that by doing so, they can create a more active, live environment that is more appealing to work in.
The Coronavirus pandemic has put the concept on hold because it does not provide adequate worker separation, but there was significant opposition to the concept even before the pandemic. The lack of privacy and the abundance of interruptions were viewed as significant drawbacks to the concept. This debate may not be resolved for some time, but once the pandemic is over, we recommend considering the following:
 If you go with an open-plan design, make the individual workspaces fairly large. A minimum width of five feet is preferred, with some sort of privacy screen between employees facing each other and the possibility of a worksurface return.
 Everyone is unique. Some people prefer open, lively work environments, whereas others prefer enclosure and privacy. An office should have a variety of workstation styles and encourage employees to find the workstation that best suits them for the job at hand. For example, providing focus rooms or "phone booths" for employees to use when they need to concentrate or have privacy can compensate for the disadvantages of open-plan design.
3) "Phone Booths" and "Focus Rooms"
Different tasks necessitate the use of different workspaces. Many organizations provide focus rooms, also known as "phone booths," to alleviate the problem of distraction in open-plan workspaces. These are single-person workstations with a glass or partially glass enclosure. They are not meant to be used all day, but they can provide a productive space for tasks that require concentration or privacy.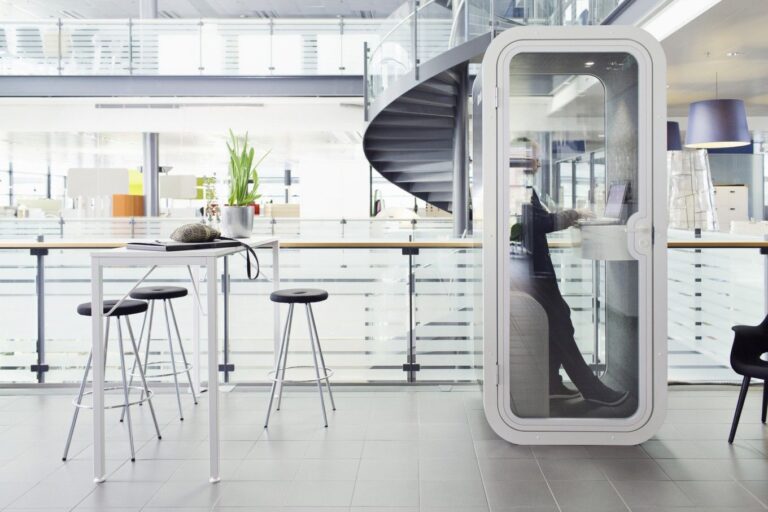 Hoteling is the practice of renting out a workspace for short periods of time. Many businesses use a booking system that allows tenants to reserve these spaces for several hours or days at a time. It is advantageous in ensuring that visitors, employees who work remotely, and part-time employees have adequate workspace without incurring the expense of providing these individuals with full-time assigned workspace.
Hoteling can also be used for specialized workspaces such as focus rooms, allowing these spaces to be reserved on an as-needed basis.
The use of "neighborhoods" is one option that workplace planners should consider. Departments are assigned groups of workstations using this method. Employees have the option of working at any workstation in their department's vicinity.
This practice has the following advantages: • It makes it easier to locate coworkers. • It allows for utilization analysis at the department level, which can improve planning.
The disadvantages of the practice include: • a decrease in random inter-departmental encounters, reducing opportunities for serendipitous innovation; and • additional management time required to maintain the balance of seats required for each department.
Space utilization constraints. The new hybrid workplace may result in significantly increased remote working, but departments may decide to have the majority of their employees work in the office on specific days. Departments would alternate their in-office days to maximize overall space efficiency, but they would require more space on their in-office days than would be available in a neighborhood. 
The percentage of work done as a group effort is a distinguishing feature of modern office work. While scheduled meetings will continue to be used, unscheduled, unstructured encounters have significant value for sharing information and sparking innovation. A well-designed agile workspace will have areas for two to three people to have brief, impromptu discussions.
It is now common practice to meet this requirement with soft lounge-style seating or a breakout table and chairs in an open area.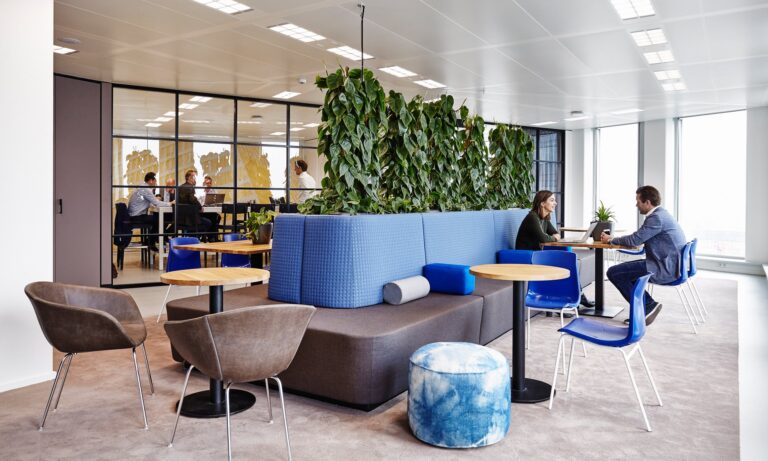 7)Preferences for Generational and Societal Workplaces
The impact of generations on workplace preferences has received a lot of attention. "Millennials don't want to work in their father's office," we hear. While this viewpoint has some validity, it is a generalization and most likely an oversimplification. If by "father's office" we mean the endless gray "cube farms" of the 1990s, no one wants to work in those environments. In addition, we are seeing changes in societal workplace preferences that we interpret as generational, but are actually universal.
The emphasis on creative or "cool" design is one of the beneficial byproducts of the co-working movement. The gray "cube farms" of twenty years ago are now widely regarded as barriers to attracting and retaining talent. Design elements to consider include:            
The use of natural materials such as stone and natural wood

The use of color, particularly as accents.

Color, particularly used as accents
Daylight
Exposed structure and HVAC ductwork
Use of talented interior architects and designers
Plants and "green walls"
Inclusion of fun spaces
There is one thing to keep in mind. The use of exposed structure rather than acoustical ceilings can result in noisy environments. This can be mitigated somewhat by using acoustical "sound clouds" or baffles, as well as white-noise systems. Just keep in mind that those acoustical ceilings and furniture partitions were installed for a reason, and removing them may have unintended consequences. 
9)Cloud-based Information Systems
Documents must be available electronically and not rely on paper files for unassigned workspace to be effective. Furthermore, computer access must be supported from any location, so offices will require either widespread use of laptops or roaming profiles deployed on standard desktops to ensure that employees are not tied to specific computers. Finally, the use of cloud-based information systems will make it easier to transition between workplaces and between home and office.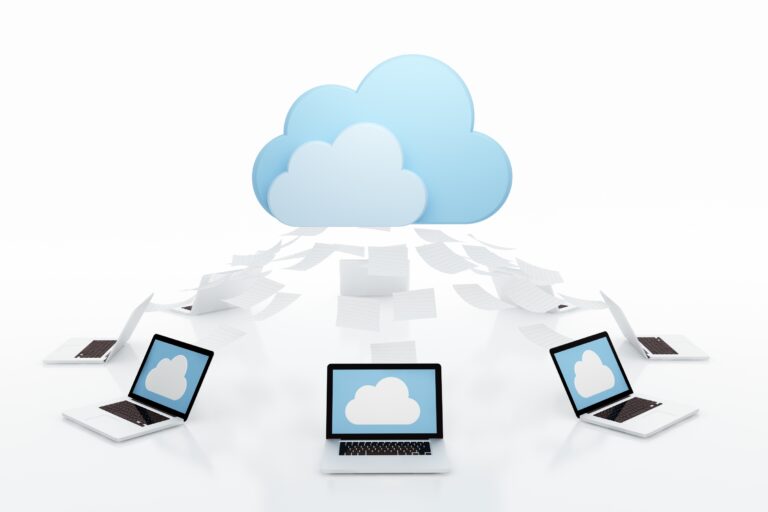 Co-working, the practice of people from different companies sharing a common workspace, is a recent addition to agile workspace practices. This idea arose from technology incubators, which were created to provide workspace for start-up companies with uncertain futures without the need for costly tenant fit-out or long-term leases. The concept first gained traction among freelance creative professionals before spreading widely through the company WeWork. Prior to the pandemic, co-working had become a widely accepted solution for businesses of all sizes to reduce space requirements without the burden of long-term commitments.
Due to the high level of social interaction associated with co-working space design, co-working spaces were either closed down or severely restricted during the pandemic. When the pandemic is over, however, co-working is likely to regain popularity, owing to the need for workplace and real estate flexibility.
Much about the future is unknown, but businesses will continue to place a premium on workplace effectiveness, efficiency, and flexibility. All three criteria are met by a hybrid workplace that combines the flexibility and efficiency of shared workspaces with liberal remote work practices.
Ready to get further information?